In-game name:[DS]peaguses
well its all about my whole account so i dont think giving info about other stuffs.
So here the thing. I was ig when the Version 5.4 was released. at that time /usetag command was present which i used to see how it will work but i was having the clan tag already in my name. After using that command it said that tag has been removed and while logging in next time dont use tag in ur name. And after that my name on the screen changed from [DS]peaguses to [D] only. now while i m logging in with the Name [DS]peaguses it says u have not registered yet.Although i was trying to see so now that account is being created but its with 0 stats. while on the other hand if i use the name peaguses only it show me the stats which i was having in version v4.
i lost around 15k+ score and around 2M of money. plz help me in getting my stats back.
P.S.- I also used /savestats when the server was closing the connection for new version to be launched. So i hope i can get all my stats back from there.
well that person with the name [D is me i think.
well here are some other screenshots
Well this one from 12 Days ago.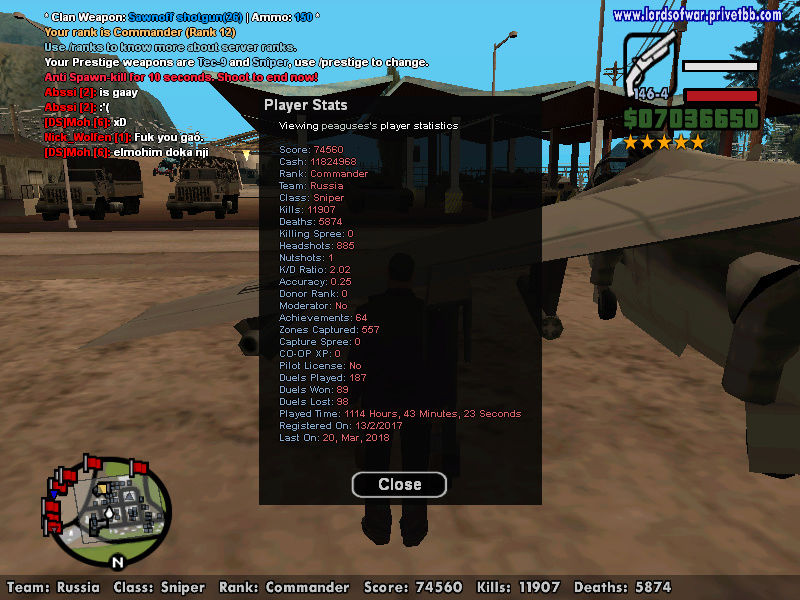 peaguses




Posts

: 87


Points

: 108


Reputation

: 1


Join date

: 2017-07-11


Age

: 20


Location

: INDIA




[LOW]Bamby

Co Owner




Posts

: 1025


Points

: 1295


Reputation

: 24


Join date

: 2016-10-02


Age

: 21


Location

: Mexico





Similar topics
---
Permissions in this forum:
You
cannot
reply to topics in this forum