Current In-game name:[GTA]_BlackGhost_
Date of birth (DD/MM/YYYY):21-6-1995
Preferred name if accepted (Must include the [SR71] tag):[GTA]_BlackGhost_[SR71]
Have you previously held a position in SR71? If so, what were the conditions for leaving or being revoked from your previous position? No
Age:21
Your skills and profession:pilot to everything
Are you experienced with flying hydras and/or rustlers (Will be tested)?Yes
Image of your in-game stats: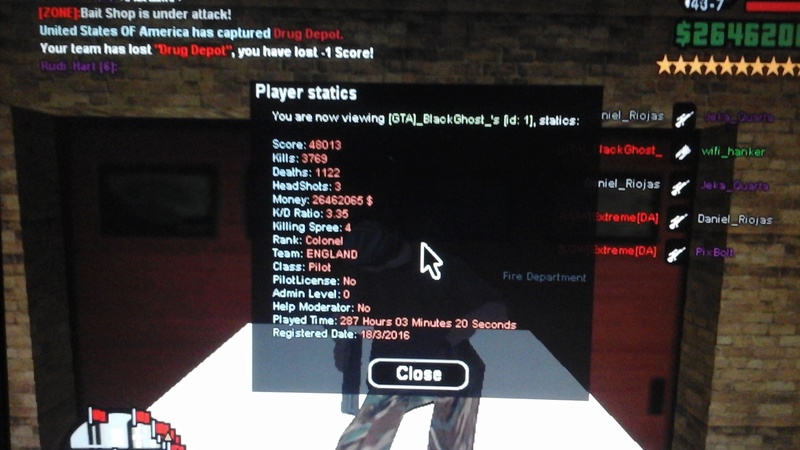 Acknowledgement that you have read, understood and interpreted the clan rules; and any punishment that is deemed within reason of breaching any act [Only requires a Yes/No answer]:Yes

GTAMrLee




Posts

: 23


Reputation

: 0


Join date

: 2016-05-31


Age

: 23


Location

: Malaysia Malacca



Congratulations, your application has passed the first stage and have met the requirements for joining SR71!

To complete your application, we will proceed to the second phase - the PFA. You have a choice out of two possible options: Either;

-Dogfight (Either with a Rustler or Hydra at your discretion) against a current SR71 Member. You'll have three attempts to shoot down the member, with you having 3x the HP of the opponent.
-A stunt (Either with a Rustler or Hydra at your discretion), we choose a random stunt for you to perform at and complete - the stunt will only be required to be done upright and not upsidedown ONCE; Upside down may be done at your own risk! You will also get three chances to perform the given stunt.

*Failing to complete the second phase will result in your application being denied, however you may wish to re-apply after one week.

Please reply below on what you wish to choose, and it will be arranged accordingly. Good Luck.

Application closed as requested due to becoming a member of DA.

---
Permissions in this forum:
You
cannot
reply to topics in this forum