Current In-game name: [LOW]DaRk_AnGeL
Date of birth (DD/MM/YYYY): 18/05/2001
Preferred name if accepted (Must include the [SR71] tag): [LOW]DaRk_AnGeL[SR71]
Have you previously held a position in SR71? If so, what were the conditions for leaving or being revoked from your previous position? No
Age: 15
Your skills and profession: Sniping
Are you experienced with flying hydras and/or rustlers (Will be tested)? Yes
Image of your in-game stats: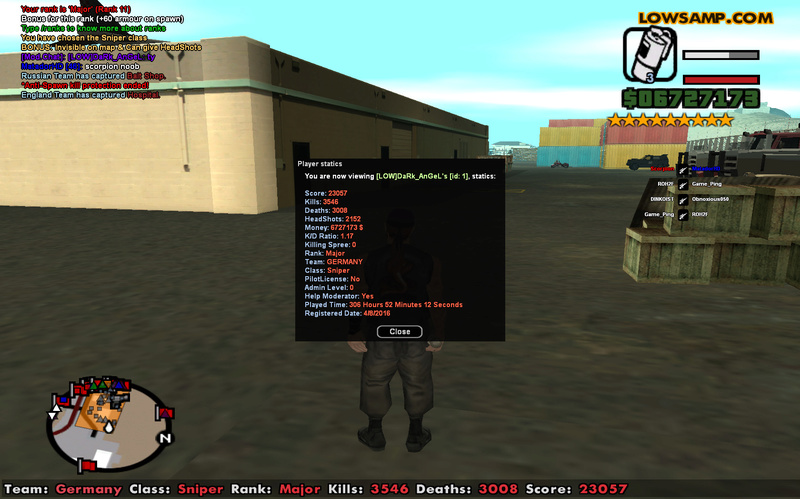 Acknowledgement that you have read, understood and interpreted the clan rules; and any punishment that is deemed within reason of breaching any act [Only requires a Yes/No answer]: Yes

[LOW]DaRk_AnGeL




Posts

: 49


Reputation

: 1


Join date

: 2016-11-22


Age

: 17


Location

: Morocco



Applicant passed the first stage of the recruitment process of SR71, congratulations.

Now we are at the second stage which is the last before the procession of the application. In order to join SR71 you have to successfully pass the Practical Flying Assessment.

Please choose one of the options below to finish this stage.

- Dogfight (Either with a Rustler or Hydra at your discretion) against a current SR71 Member. You'll have three attempts to shoot down the member, with you having 3x the HP of the opponent.

- A stunt (Either with a Rustler or Hydra at your discretion), we choose a random stunt for you to perform at and complete - the stunt will only be required to be done upright and not upsidedown ONCE; Upside down may be done at your own risk! You will also get three chances to perform the given stunt.

[LOW]H2O




Posts

: 1259


Reputation

: 37


Join date

: 2015-11-17


Age

: 19


Location

: Cairo, Egypt




[LOW]DaRk_AnGeL




Posts

: 49


Reputation

: 1


Join date

: 2016-11-22


Age

: 17


Location

: Morocco



Player failed to pass the second stage, the PFA. Application denied, if you wish to reapply for SR71 feel free to do so after one week of hard work on hydra or rustler skills


IMRAN

Lead Admin




Posts

: 2719


Reputation

: 70


Join date

: 2016-07-18


Age

: 23


Location

: Morocco



Thank You For All Your Time , The Bad Luck Was With Me xd

[LOW]DaRk_AnGeL




Posts

: 49


Reputation

: 1


Join date

: 2016-11-22


Age

: 17


Location

: Morocco




---
Permissions in this forum:
You
cannot
reply to topics in this forum